Featured Item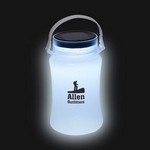 Foldable Waterproof Container w/Solar Li...
Foldable Waterproof Container w/Solar Powered Light is uniquely different! This floating, waterproof lantern is charged by solar and USB (cable included) . Light modes include normal bright, super bri...
$13.35 - $15.35
Peach State Promotions, Inc.
Peach State Promotions, Inc. is more than another promotional products company. We are a service company. We are here to help you from start to finish with ideas and concepts to the implementation and delivery of each product. It is our job to assist our clients in making educated decisions about which products are the best to use in achieving their branding message goals. We have the most up to date computer technology available. Many of our products are decorated and shipped within the united states. But there are times when we need to use an overseas source to help our clients stay within a budget. Other services that we offer include online stores, warehousing and fullfilment, onsite assistance with kitting and an in house art dept. We welcome the opportunity to work with you on your next project.
Signature Showrooms